Rug Cleaning
Rug Cleaning Scoundrels
The Institute of Inspection, Cleaning and Restoration (II-CRC) Standard S-100 states that, "When practical, the preferred system for Rug Cleaning is to remove them from the customer's home or business and clean them in a controlled 'in-plant' environment".
Standard S-100 continues, "Failure to perform specialized procedures may result in permanent damage to the rug and or flooring under and around the rug".
Unfortunately there are many carpet and rug cleaners that are cleaning natural fiber rugs in the rug owners home. This is risky business and the rugs are not really getting cleaned. Be careful, there is great risk of permanent damage to you fine natural fiber rugs when they are not properly cleaned.
Pressluft Rug Cleaning Plant is in Rocklin, CA. Our Service areas include Placer County, Sacramento County & El Dorado County.
We provide expert rug cleaning for the beautiful communities of El Dorado Hills, Folsom, Orangevale, Fair Oaks, Gold River, Carmichael, Sacramento, Roseville, Rocklin, Granite Bay, Loomis, Newcastle, Auburn & Lincoln.

We use several pre-cleaning steps including but not limited to fiber testing, rug identification, and fiber colorfast testing. The most important step in cleaning rugs occurs before the actual cleaning process begins. The results of tests and a complete inspection of each rug will dictate the cleaning procedure for each rug.

Rug Cleaning is both an Art & Science and choosing the right method of cleaning for each rug takes knowledge and experience. Pressluft is committed to selecting the rug cleaning method that will most effectively remove soiling yet will not damage the rug. There is no "one right way" for cleaning rugs. Our methods are numerous and include submersion baths for contaminated rugs.
Additionally, proper drying is a critical part of our process. Once again we select the correct method for each rug. We specialize in cleaning Wool, Silk, Cotton and Blended Fiber Rugs. (many rugs are made with a blend of fibers- wool & silk,wool & cotton etc…)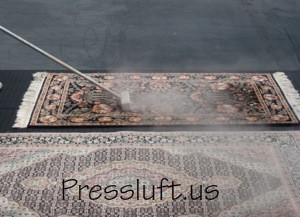 All dry particulates are released from the rug during dusting.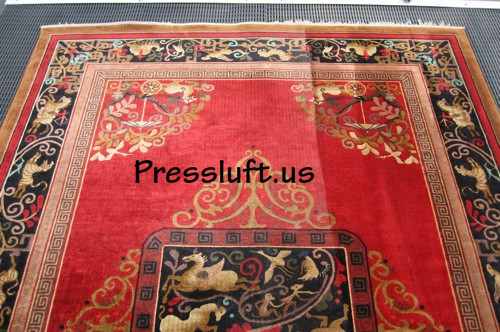 Can you see the difference where this rug has only been dusted on the right side?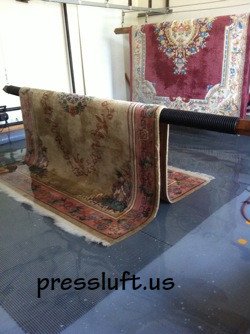 Rugs being hoisted out of the bath will hang until completely dry.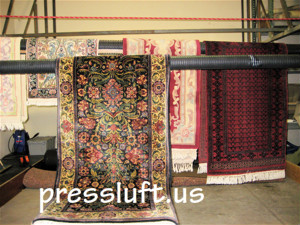 Rugs Vertical Drying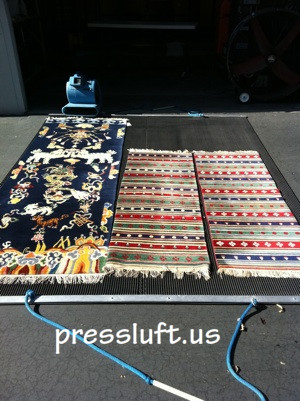 Tibetan Rugs-Horizontal Drying