Beni Ouarain Hendira- We just get so amped when an unusual textile comes to us. This interesting tribal piece peaked our full attention. This gem is from Morocco! The owners bought it as a rug while in Morocco. We found they are frequently sold with actual rugs however they will last longer with little or no foot or pet traffic. In this case the owners cat loved the rug a bit too much. The long fiber does feel a bit like long dried grass.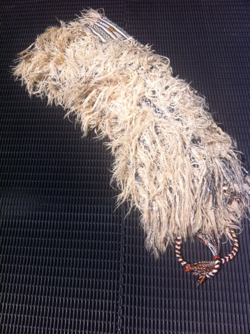 It is traditionally used as a cloak sometimes as a top cover for a bed, a throw for furniture or a wall hanging. In Morocco, women usually make these for their daughter's trousseau. It is not common to see them used as rugs.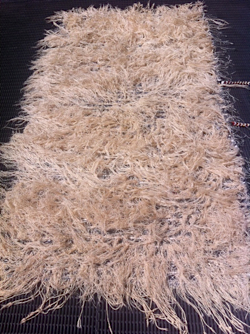 A Beni Ouarain is Reversible. This one has long shaggy fibers on one side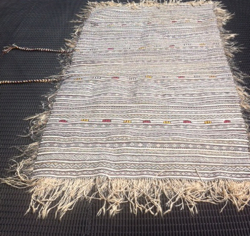 lips). I price very 1-2 coating circles.